Day 15
July 7, 2016
Chinle, AZ to Mesa Verde National Park, CO
The Four Corners Monument was supposed to open at 8:00. It was 8:05 and it was not open yet, and the line was very long. We waited five more minutes and still no movement in the line, so we decided to take a picture of the sign instead.
First look at Mesa Verde- highest point at Park Point 8572 ft.
Evidence of forest fire
After a five hour drive, we needed to stretch our legs by going on our first hike through Mesa Verde National Park. Here we are squeezing through on Petroglyph Point Trail.
Looking over the canyon during the Petroglyph Point Trail
See that hole, no we did not have to crawl through there.
Out on a ledge - Please be careful!
Watch out for tarantulas and scorpions hiding in those holes.
Back to our beautiful hotel at the Far View Lodge within Mesa Verde National Park.
At 5:00, we will go on our next ranger-led tour of Balcony House.
Climbing up to Balcony House - the Pueblo did not use ladders, they climbed the rocks using foot and hand holds that they carved out of the rock.
Another ladder!
Balcony House - The Pueblos used the sandstone to build these structures and sand and clay as mortar. Sometimes they even used their own urine as the liquid to hold the elements together when water was sparse.
See the balcony behind Ranger Pete- that is why it is called Balcony House.
It is the only intact balcony among the ruins.
Sitting around the top of a kiva- a room within used for religious rituals. As many as 15-17 people would go into one kiva.
Inside Balcony House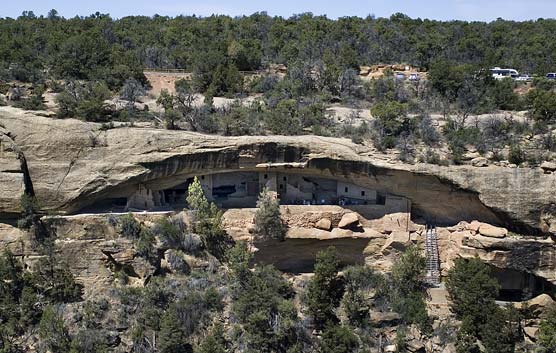 Not taken by me- but I wanted you to see what it looked like from the viewpoint.
You can also see the 30 ft. ladder we climbed, on the right.